Green Roofs with KÖSTER TPO roofing membranes
Green Roofs with KÖSTER TPO Roofing Membranes Green roofs not only add visual appeal to an often dreary roof design but also provide many tangible benefits for buildings and the environment:
Protection of the roof from direct weather conditions such as rain, hail, snow, sun, and UV-rays.
Greater insulation reduces energy needed to provide cooling and heating.
Absorption of rainwater helps reduce rainwater runoff and filters pollutants from rainfall. Evaporation of rainwater moderates the temperature of the building, providing a natural cooling effect.
Creates new amenity space, which can serve a number of functions and uses especially for residents and users of the building.
Enables "urban gardening" which can reduce a community's urban footprint through the creation of local food production.
Plants on green roofs promote filtration of pollutants in urban areas thus improving air quality.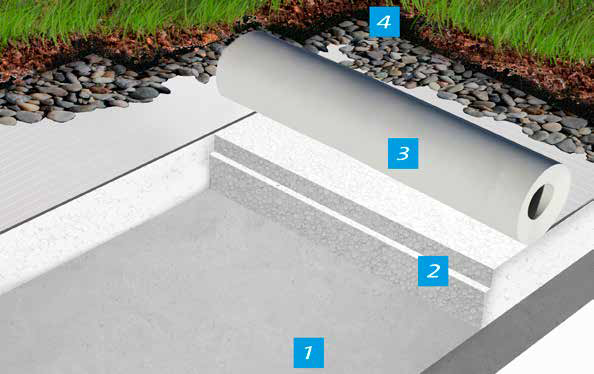 (1) Substrate (Concrete), (2) Insulation, (3) KÖSTER TPO, (4) Landscaping
Due to these many benefits and recent trends, the demand for a roof waterproofing which allows flat roofs to be used as green roofs continues to grow. This month, the Weihenstephan-Triesdorf University of Applied Science, scientifically confirmed that KÖSTER TPO Roofing Membranes are optimally suited for green roofs. After two years of testing the root resistance of the membranes for green roofs according to FLL-Guidelines, KÖSTER TPO Roofing Membranes with a thickness of 1.8 mm and higher have received the official root and rhizome resistance seal. This allows the following roofing membranes to be included in future tenders for green roofs:
KÖSTER TPO 1.8
KÖSTER TPO 2.0
KÖSTER TPO 2.0 F

This test certificate has been added to all related technical documentation. The Technical Datasheet and Declaration of Performance EN 13956 are available for download online on all corresponding product pages here.